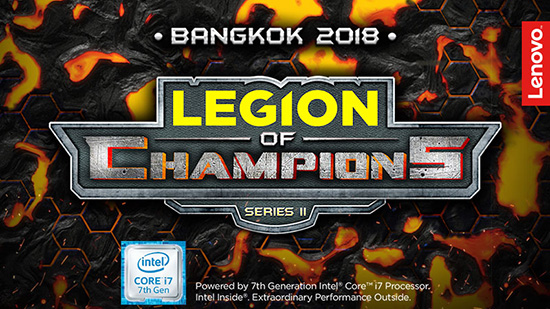 Turnamen League of Legends - Legion of Champions Series II dimulai tanggal 9 Desember 2017
Pendaftaran akan ditutup tanggal 6 Desember 2017
Turnamen League of Legends - Legion of Champions Series II
Daftarkan tim kamu dan bertarunglah untuk terbang ke Bangkok Mampukah kamu bersaing dengan ratusan Summoners dan menjadi yang terbaik di Indonesia? Kali ini adalah saat yang tepat untuk membuktikannya.
Legion of Champions (sebelumnya bernama League of Champions) yang dipersembahkan oleh Lenovo dan Intel akan kembali di penghujung tahun ini sebagai ajang kompetisi League of Legends berskala internasional. Daftarkan timmu dan bertarunglah untuk memenangkan hadiah besar dan juga kesempatan mewakili Indonesia di main event yang akan berlangsung Bangkok pada bulan Januari 2018.
- Detail Turnamen :
Pendaftaran akan ditutup tanggal 6 Desember 2017
Link pendaftaran : https://legionlenovo.com/id/loc2018/tournament/
Kualifikasi Nasional - Penyisihan
Match Day : 9 - 13 Desember 2017 (Jam menyusul)
Venue: Online
Format:
Single elimination bracket
Best of 1 (Round 1 s/d Perempatfinal), Best of 3 (Semifinal)
Dua tim yang lolos dari babak semifinal akan bermain di Grand Final secara offline
Registrasi terbuka untuk semua Summoners (No banlist)
Kualifikasi Nasional - Final
Match Day : 17 Desember 2017 (Jam menyusul)
Venue: Offline (Lokasi menyusul)
Format:
Best of 5 (Tim pemenang berhak mewakili Indonesia di event utama Legion of Champions Series II)
Main Event
Venue: Offline (Bangkok, Thailand)
Tanggal: 26-28 Januari 2018
Format: menyusul
Tunggu informasi selanjutnya mengenai Main Event LOC Series II dalam waktu dekat.
- Hadiah :
Informasi menyusul
- Contact Person :
http://lolesports.garena.co.id/