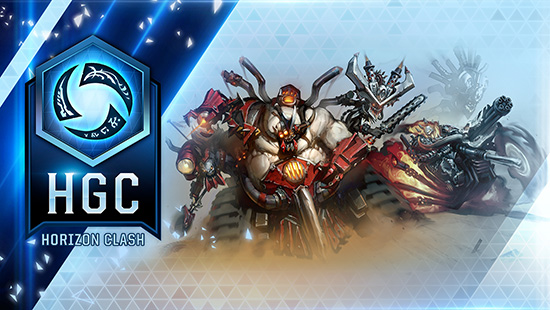 Turnamen Heroes of the Storm - 2018 HGC Horizon Clash Season 2 dimulai tanggal 28 Juli 2018
Pendaftaran akan ditutup tanggal 25 Juli 2018
Turnamen Heroes of the Storm - 2018 HGC Horizon Clash Season 2
- Detail Turnamen :
Match Day : 28 - 29 Juli 2018, Jam 17.00 WIB - Selesai
Pendaftaran akan ditutup tanggal 25 Juli 2018, Jam 21.00 WIB
Biaya pendaftaran GRATIS
Link pendaftaran : https://battlefy.com/blizzardzhtw/2018-hgc-horizon-clash-season-2-southeast-asia-qualifier/5b4464468c5ad903a0aa612b/info?infoTab=details
Venue : Online
- Hadiah :
Juara 1 : USD 2.500,- (Sekitar Rp. 36.000.000,-) + 1 Slot Horizon Clash Season 2 Final di Blizzard Arena Taipei
Juara 2 : USD 1.250,- (Sekitar Rp. 18.000.000,-)
Juara 3 : USD 750,- (Sekitar Rp. 10.000.000,-)
Juara 4 : USD 500,- (Sekitar Rp. 7.200.000,-)
- Peraturan :
Link peraturan : https://bnetcmsus-a.akamaihd.net/cms/content_folder_media/wl/WLNUMQVTM7EC1532082642107.pdf
1. Pemain Asia Tenggara yang boleh ikut : Malaysia, Philippines, Singapore, Thailand, Vietnam, dan Indonesia
2. 2 Stage di turnamen Horizon Clash SEA terdiri dari : Stage 1 - Single Elimination dan Top 4 akan melaju ke Top 4 Finals. Stage 2 - Tim yang berada di Top 4 akan bertarung dalam Double Elimination Bracket untuk mendapatkan 1 slot di ajang Horizon Clash Final.
3. Open Qualifier akan menggunakan sistem Single Elimination BO3
4. Top 4 Finals akan menggunakan sistem Double Elimination BO3 dan di Grand Final akan menggunakan BO5. Tim yang berada di Upper Bracket akan otomatis mendapatkan 1 poin sehingga pertandingan akan dimulai dengan skor 1-0.
5. Di setiap pertandingan, masing-masing tim harus menggunakan game Heroes of the Storm di Server Battle.net yang dimiliki Blizzard. Pertandingan akan menggunakan Game Mode 'Custom" dan Lobby Mode "Tournament Draft".
6. Tim memiliki kesempatan untuk melakukan Pause sebanyak 3 kali per Game. Waktu Pause tidak boleh melewati 10 menit per Game.
- Contact Person :
E-mail: This email address is being protected from spambots. You need JavaScript enabled to view it.