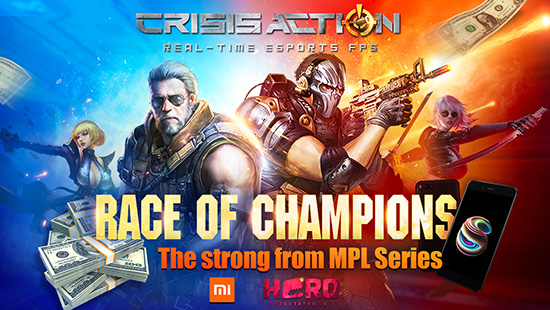 Informasi dan Jadwal Turnamen Crisis Action Mi Power League Race Of Champions
Pertandingan akan dimulai tanggal 16 Desember 2017
Crisis Action Mi Power League Race Of Champions will have 32 Top Clans from Mi Power League Season 1-3 to join in the most intensive fighting, 3 BIG NEWS about Crisis Action will be published in Race Of Champions Live Streaming in 23 December 2017 at 12:00 GMT+7.
Crisis Action Mi Power League Race Of Champions akan memiliki 32 Top Clans dari Mi Power League Season 1-3 untuk ikut dalam pertarungan yang intensif. 3 BERITA BESAR tentang Crisis Action akan diumumkan pada Live Streaming Crisis Action pada tanggal 23 Desember 2017, Jam 12:00 WIB (GMT+7)
- FAQ :
Indonesia Language
1. Bagaimana cara mendapatkan hadiah Smartphone Xiao Mi A1?
- Akan ada 4 Pcs Smartphone Xiao Mi A1 yang dibagikan pada turnamen Mi Power League Race Of Champions.
1 Pcs akan dibagikan melalui "Share Event" di Facebook Page Crisis Action.
3 Pcs akan dibagikan saat Live Streaming tanggal 23 Desember 2017 di 3 Platform yaitu Youtube, Facebook, dan Bigo.
English Language
1. How to get Smartphone Xiao Mi A1 Rewards?
- There will be 4 Pcs Smartphone Xiao Mi A1 that will given in tournament Mi Power League Race Of Champions.
1 Pcs will be given in "Share Event" on Crisis Action Facebook Page.
3 Pcs will be given when Live Streaming at 23 December 2017 in 3 Platform that are Youtube, Facebook, and Bigo.
- Bracket : http://infotourney.com/tournament/crisis-action/bracket-crisis-action/500-bracket-dan-jadwal-crisis-action-mi-power-league-race-of-champions

- Rules :
- General :
Official Language : English, at least one clan member should speak English.
Official Communication Tool : WhatsApp and Line
*By entering the competition, you agree to follow the rules
- Register :
Number of clans : 32 Top Clans from Mi Power League Season 1-3
- Tournament System :
- Race Of Champions
Rules: Grand Final 2and 3rd Place Match BO5 | Other Match BO3
All participants must use official accounts provided by Hero Game.
During cross Race Of Champions, all players are responsible for the accounts provided by Hero game. Disclosure of accounts is strictly prohibited and will lead to disqualification.
*Please note that all the official accounts will be closed permanently after the match completes.
All the official accounts will be provided with the same weapons and equipment. Please select equipment freely.
- Race Of Champions
The two clans will choose to be Allies or Rebels by coin toss.
The side with number: Allies
The other side: Rebels
PS: Coin will be tossed by the judge and two clans' captains must make choices before coin toss.
Both sides must get ready in 20 minutes before the match starts and inform the judge via WhatsApp and the referee will create the room in 5 minutes and invite both sides into the room before match starts. If not, the clan will be disqualified
Any network failure or device issue will not influence the match. No rematch will be taken if any of the issue mentioned above occurs.
The match will be a 4V4 team battle. Clan captain must decide which four members will attend before the match starts. Once confirmed, any change is prohibited. Clan that has less than four members to attend will be deemed as a waiver. The opponent will be automatically promoted.
- Game Mode:
BO1: Bomb Mode
BO3: Bomb Mode > Team Mode > Bomb Mode
BO5: Bomb Mode > Team Mode > Bomb Mode > Team Mode > Bomb Mode
During the same mode, map will be randomly chosen by referee.
Bomb Mode——Europe Town, Dust, Mong Kok, Small Town
Team Mode——Dark City, Metro, Ferry
If there's any unexpected external problems or events outside of its control and led to cancelling the competition, a rematch will be taken.
All rules are mandatory. Failed to comply will be deemed as a waiver.
- Duties and obligations:
In order to make more players participate the tournament, absence and cheating will be severely punished since S5.
If any clan can't join the tournament for any reasons, they must inform the referee 2 days before match starts.
- Offline Tournament absence:
*Online absence will be banned one time!
*If any team quit the match on site, all rewards and related welfare will be cancelled and team will be banned permanently.
- Cheating Punishment:
Any cheating tools will lead to permanent ban!
Crisis Action does not tolerate any cheating behavior! We'd like you to help us improving our gaming environment and report cheating behaviors! Reporting by video is strongly recommended! Hero Game reserves all the rights for the final explanation.
- Result Issued:
The decision of the jury and the judge is final.
Final result will be issued via Facebook and official website. Any questions regarding the final result, please do not hesitate to contact us.
Rewards will be distributed in 7 working days after the final result issued.
- Reward :
- Race Of Champions :
1st Place : $ 2.000,- + 5 Pcs Smartphone Mi A1
2nd Place : $ 1.400,-
3rd Place : $ 1.000,-
4th Place : $ 900,-
5-8th Place : $ 450,-
9-16th Place : $ 300,-
17-32nd Place : 6.000 Diamonds
- Most Kill Rewards :
1st Most Kill : $ 200,-
2nd Most Kill : $ 150,-
3rd Most Kill : $ 50,-