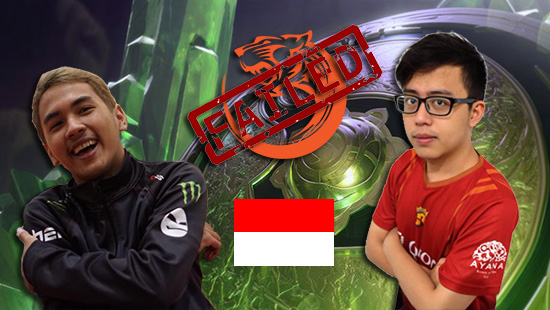 Pemain Dota 2 asal Indonesia yaitu Muhammad "inYourdreaM" Rizky dan Kenny "Xepher" Deo yang bermain untuk tim TnC Tigers hampir berhasil masuk ke ajang The International 8.
Kedua pemain kebanggaan asal Indonesia yaitu "inYourdreaM" dan "Xepher" memutuskan untuk bergabung dengan tim TnC Tigers pada bulan Mei 2018 lalu. Mereka akhirnya keluar dari tim mereka yaitu The Prime NND untuk "inYourdreaM" dan RRQ untuk "Xepher" dan memilih untuk mencoba bermain di tim Internasional yang akan memberikan mereka pengalaman dan pastinya akan menambah kemampuan mereka lebih jauh lagi.
Siapa sangka tim yang baru berusia 1 bulan ini mampu memenangkan kualifikasi terbuka regional SEA untuk ajang The International 8 dan berkesempatan untuk bersaing dengan tim-tim papan atas seperti Fnatic dan TnC Pro Team di kualifikasi regional. Tidak hanya menjadi peserta di kualifikasi tersebut, ternyata TnC Tigers mampu bersaing dengan baik dan menjadi kandidat juara ketika mereka harus berhadapan dengan tim utama mereka yaitu TnC Pro Team di babak Lower Bracket Final.
Di game pertama, "inYourdreaM" dan kawan-kawan mampu bermain dengan sangat baik dan bahkan berhasil memenangkan game pertama yang membuka lebar peluang mereka untuk bisa menjadi pemain Indonesia pertama di ajang The International. Sayangnya pada game kedua, TnC Pro Team memperlihatkan kualitas mereka sebagai tim besar dan memaksa pertandingan berjalan ke game terakhir.
Sebenarnya tim TnC Tigers mampu mengendalikan pertandingan dari awal dan unggul hingga 20K Gold dari segi Net Worth. Tapi mungkin inilah yang kurang dari "Xepher" dan kawan-kawan, mereka gagal untuk mempertahankan keunggulan mereka dan membuat keadaan berbalik untuk TnC Pro Team. Mental juaralah yang memperlihatkan perbedaan antara TnC Pro Team yang merupakan tim besar dan sudah ada sejak lama dengan tim TnC Tigers yang baru terbentuk 1 bulan lalu.
Melihat hal ini, memang sebuah kekecewaan bagi para gamer Dota 2 di seluruh Indonesia karena 2 pemain Dota 2 terbaik dari Indonesia gagal menembus ajang Dota 2 paling bergengsi yaitu The International 8. Namun dengan performa yang "inYourdreaM" dan "Xepher" tampaknya mereka memiliki kesempatan besar di tahun depan bersama tim TnC Tigers. Semoga mereka mampu bersaing di musim kompetisi Dota Pro Circuit 2018-2019 nantinya!!
Roster TnC Tigers :
- Trịnh "458" Văn Thọ
- Muhammad "inYourdreaM" Rizky
- Lee "kYxY" Kong Yang
- Kenny "Xepher" Deo
- Sivatheeban "1437" Sivanathapillai