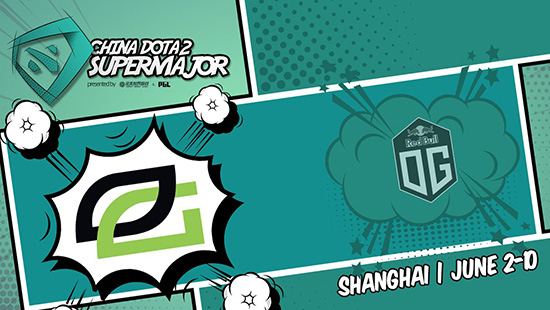 Kesempatan kedua datang bagi tim OpTic Gaming untuk bisa mendapatkan undangan langsung ke ajang The International 8 setelah tim OG Dota 2 terpaksa mundur dari ajang China Dota 2 Supermajor.
Setelah tim OG Dota 2 kehilangan 2 pemain mereka yaitu Tal 'Fly' Aizik dan Gustav 's4' Magnusson yang pindah ke tim Evil Geniuses, mereka terpaksa harus mundur dari turnamen China Dota 2 Supermajor karena kini mereka hanya memiliki 2 pemain aktif saat ini yaitu Johan "N0tail" Sundstein dan Jesse "JerAx" Vainikka. Dengan kurangnya 1 slot yang ditinggalkan oleh tim OG Dota 2, maka pihak panitia memutuskan untuk mengundang tim OpTic Gaming yang kini berada di posisi 9 klasemen sementara Dota Pro Circuit 2017-2018.
Dengan begitu kesempatan kembali terbuka bagi Peter 'ppd' Dager dan kawan-kawan untuk mengubah klasemen sementara agar mereka bisa masuk ke dalam posisi 8 besar. Hal ini sangat mungkin terjadi karena mereka hanya terpaut 135 poin dari tim VGJ.Thunder yang berada di posisi ke-8 saat ini. Berarti tim OpTic Gaming hanya perlu mencapai posisi 4 besar dengan catatan tim VGJ.Thunder tidak berhasil mencapai posisi 4 besar.
OpTic Gaming memang perlu diperhitungkan sebagai tim kuat berdasarkan peforma mereka di beberapa turnamen terakhir. Mereka mampu meraih gelar juara pada ajang StarLadder StarLadder ImbaTV Invitational Season 5 dan menjadi juara 2 di turnamen Major ESL One Birmingham 2018 dimana mereka hanya kalah dari tim Virtus.Pro di babak Grand Final.
Kini dengan masuknya tim OpTic Gaming dalam turnamen China Dota 2 Supermajor dan dengan ambisi mereka untuk mengamankan posisi 8 besar maka dapat dipastikan bahwa pertandingan dalam ajang pamungkas musim kompetisi Dota Pro Circuit 2017-2018 akan menjadi lebih seru untuk disaksikan.
Apakah menurut kalian tim OpTic Gaming mampu mencapai posisi 4 besar dan meraih undangan langsung ke ajang The International 8?