Setelah Indonesia kini turnamen Minor Dota 2 akan kembali berlangsung di Stockholm, Swedia dalam ajang DreamLeague Season 9 yang akan berlangsung pada tanggal 21 - 25 Maret 2018.
Turnamen Minor berikutnya yaitu DreamLeague Season 9 akan diikuti oleh 8 turnamen dimana 2 tim berasal dari Direct Invites yang didasarkan pada klasemen DCP yang pada waktu itu ditempati oleh Team Secret di urutan pertama dan Team Liquid di urutan ke-2, serta 6 tim lainnya yang berasal dari kualifikasi regional masing-masing. Mereka adalah OG Dota 2 dari regional EU, Team Empire dari regional CIS, Newbee dari regional China, Fnatic dari regional SEA, Immortals dari regional NA, dan paiN Gaming dari regional SA.
Dengan tidak adanya tim Virtus.Pro yang dipastikan mendapatkan Direct Invites pada ajang The International 8, maka turnamen ini akan menjadi kesempatan bagi tim-tim lainnya untuk mengumpulkan Dota Circuit Poin sebanyak-banyaknya guna mengamankan posisi mereka di Top 8 klasemen DCP nantinya. Seperti yang kita ketahui ajang The International 8 akan dimulai pada 20 Agustus 2018 dan akan berpindah tempat untuk pertama kalinya ke Vancouver, Kanada.
Kini tinggal 3 turnamen Minor termasuk DreamLeague Season 9 dan 5 turnamen Major yang tersisa bagi tim-tim Dota 2 untuk bersaing guna mengamankan posisi mereka di ajang The International 8 nantinya. Lalu tampaknya Team Liquid akan sedikit mendapatkan tantangan dalam DreamLeague Season 9 karena Amer 'Miracle-' Al-Barkawi tidak akan bertanding dan harus digantikan oleh pelatih mereka saat ini yaitu Lee 'Heen' Seung Gon. Kemudian tim OG Dota 2 juga secara tiba-tiba melepas Roman 'Resolut1on' Fominok dan akan menggunakan Sébastien '7ckngMad' Debs sebagai pengganti dalam turnamen ini.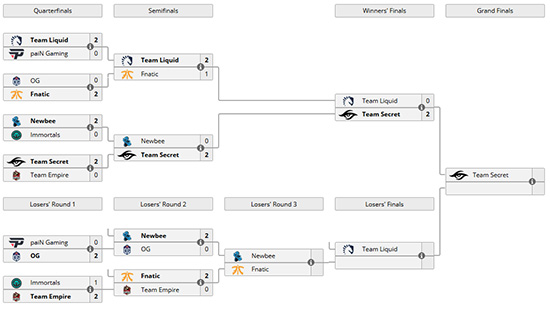 Tapi kita tidak bisa menebak akan seperti apa jalannya turnamen DreamLeague Season 9 nantinya, namun pastinya akan ada pertandingan yang akan menghibur kita para penggemar Dota 2 karena tim-tim yang bertanding adalah tim-tim terbaik di dunia saat ini. Seperti biasa turnamen Minor ini akan memiliki total hadiah sebesar $300.000,- dan 300 DCP untuk diperebutkan. Anda dapat menyaksikan pertandingan ajang DreamLeague Season 9 di https://www.twitch.tv/dreamleague.
Turnamen ini akan menggunakan format Double Elimination dengan BO3 untuk semua pertandingan kecuali untuk babak Grand Finals akan menggunakan BO5. Berikut ini jadwal pertandingan turnamen Minor DreamLeague Season 9 :
21 Maret 2018
Quarter Finals
OG Dota 2 0 vs 2 Fnatic - 16:30 WIB
Newbee 2 vs 0 Immortals - 19:30 WIB
Team Secret 2 vs 0 Team Empire - 22:30 WIB
22 Maret 2018
Quarter Finals
Team Liquid 2 vs 0 paiN Gaming - 01:30 WIB (Dini Hari)
Lower Bracket Round 1
Immortals 2 vs 1 Team Empire - 16:30 WIB
paiN Gaming 0 vs 2 OG Dota 2 - 19:30 WIB
Semi Finals
Team Liquid 2 vs 1 Fnatic - 22:30 WIB
23 Maret 2018
Semi Finals
Newbee 2 vs 0 Team Secret - 01:30 WIB (Dini Hari)
Lower Bracket Round 2
Newbee 2 vs 0 OG Dota 2 - 19:30 WIB
Fnatic 2 vs 0 Team Empire - 22:30 WIB
24 Maret 2018
Upper Bracket Final
Team Liquid 0 vs 2 Team Secret - 01:30 WIB (Dini Hari)

Lower Bracket Round 3
Newbee 1 vs 2 Fnatic - 19:30 WIB
Lower Bracket Final
Team Liquid 0 vs 2 Fnatic - 22:30 WIB

25 Maret 2018
Grand Final
Team Secret vs Fnatic - 21:30 WIB