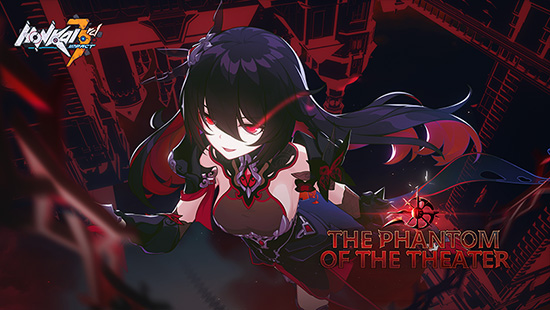 Seele akan memperlihatkan kepribadian yang bertolak belakang dengan sifat aslinya pada Honkai Impact 3 Versi 4.8 [The Phantom of the Theater] dengan Battlesuit Rank-S [Starchasm Nyx]!
Honkai Impact 3 Versi 4.8 [The Phantom of the Theater] akan menyambut para kapten dengan beberapa Event baru yaitu [Stan Wars] dan Story Chapter [Pertunjukan Legion] yang akan berfokus pada Valkrie Seele. Pada Event [Stan Wars] para kapten berkesempatan untuk memberikan Vote antara Ai Hyperion (Ai-chan) dari Destiny Financial Group, Dr. Tesla dari Anti-Entropy Entertainment, dan Nona Raven dari World Serpent Technologies untuk menjadi Top Idol di Honkai Impact 3!
Di Story Chapter [Pertunjukan Legion] akan bercerita mengenai Seele yang belum bisa mengendalikan kekuatannya secara sempurna. Hal tersebut membuat Seele kalah ketika menghadapi musuh bebuyutannya dan terpaksa untuk membebaskan dirinya yang lain untuk mengeluarkan potensi yang ada di dalam dirinya. Para kapten akan dapat mempelajari lebih lanjut tentang ikatan antara 2 kepribadian Seele dan menikmati pengalaman bertarung yang baru dengan menggunakan wujud terbaru Seele [Starchasm Nyx].
Battlesuit [Starchasm Nyx] merupakan Rank-S terbaru di Versi 4.8 dan akan menjadi Battlesuit tipe QUA yang dapat mengakibatkan Ice DMG menggunakan sabit dan cakar rantai, membersihkan segerombolan musuh dalam Burst Mode dan meneruskan DMG ke musuh dengan [Nightmare Thorns].
Berbagai Event seperti [Stan Wars], Event Tantangan [Threshold Breach], dan Chapter Story XXIV [Pertunjukan Legion] akan dapat diikuti oleh para kapten dan memberikan Reward seperti Valkyrie Fragvyom [S], Stigma, Outfit, dan Crystal secara gratis!
Honkai Impact 3 versi 4.8 [The Phantom of the Theater] akan dirilis secara resmi pada tanggal 27 Mei 2021 untuk iOS, Android, dan Windows. Untuk informasi lebih lanjut mengenai game, silakan kunjungi situs resmi Honkai Impact 3 atau ikuti @HonkaiImpact3rd di Twitter, Instagram dan Facebook.
Tentang miHoYo :
"Tech Otakus Save the World!" miHoYo didirikan pada tahun 2012 dan berpusat di Shanghai, dan banyak dikenal dari IP orisinilnya yang sudah mendunia – Honkai Series. miHoYo memiliki visi untuk menjadi pemimpin industri sebagai pembuat dan penerbit media entertainment seperti game, manga, novel, dan bidang-bidang lainnya. miHoYo selalu mempertahankan visi utamanya untuk selalu menciptakan karya dengan kualitas yang mutlak, dan miHoYo berjuang keras untuk mewujudkan impiannya, yaitu untuk membangun komunitas yang tidak pernah mati."