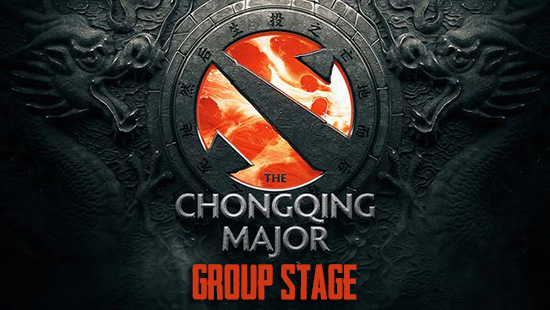 Turnamen Major kedua untuk musim kompetisi Dota Pro Circuit 2018-2019 yaitu The Chongqing Major akan dimulai pada tanggal 19 Januari 2019 di BLOOMAGE Cultural and Sports Center.
Dengan total 16 tim peserta yang akan dibagi menjadi 4 grup, ajang The Chongqing Major pastinya akan menyajikan pertandingan yang seru karena seperti yang kita ketahui hanya ada 5 turnamen Minor dan 5 turnamen Major di musim kompetisi Dota Pro Circuit 2018-2019. Hal itu berarti memenangkan sebuah turnamen Major tampaknya akan langsung mengamankan posisi tim untuk mendapatkan 1 dari 12 undangan langsung ke ajang The International 9.
Cukup banyak kejutan yang terjadi sebelum ajang The Chongqing Major berlangsung, seperti tim test123 yang didiskualifikasi dari turnamen karena ternyata tim mereka tidak berdomisili di regional South Americadan akan digantikan oleh tim Thunder Predator. Lalu juga ada Carlo "Kuku" Palad dari tim TnC Pro Team yang terpaksa tidak bisa mengikuti turnamen ini karena sempat terkena masalah rasisme karena memberikan komentar rasis saat sedang bermain.
Terlebih lagi komentar rasis tersebut dilontarkan "Kuku" kepada ras China dan karena ajang The Chongqing Major akan berlangsung di China maka ditakutkan "Kuku" akan menjadi target dari para fans Dota 2 yang kesal terhadapnya nanti. Oleh sebab itu pihak Valve memutuskan untuk melarang "Kuku" untuk bertanding di The Chongqing Major dan TnC Pro Team memutuskan untuk mengganti posisi "Kuku" dengan Ryo "ryOyr" Hasegawa.
Lalu Team Liquid dipastikan akan kehilangan bintang mereka yaitu Amer "Miracle-" Al-Barkawi yang memutuskan untuk tidak bertanding karena masalah pribadi. Tim juara The International 7 ini belum memiliki poin sama sekali yang berarti mereka harus bermain dengan baik untuk bisa mengamankan posisi mereka di ajang The International 9. Namun tanpa "Miracle-" tampaknya Team Liquid akan mengalami kesulitan, namun posisinya akan digantikan oleh Chu "shadow" Zeyu yang merupakan juara The International 6 bersama tim Wings Gaming.
Untuk pembagian grup, tampaknya tidak ada grup yang terlalu berat sebelah dan seperti yang kita ketahui dalam game Dota 2 segala hal bisa terjadi. Anda dapat menyaksikan pertandingan fase Group The Chongqing Major di https://www.twitch.tv/dotastarladder_en. Berikut ini pembagian grup untuk ajang The Chongqing Major :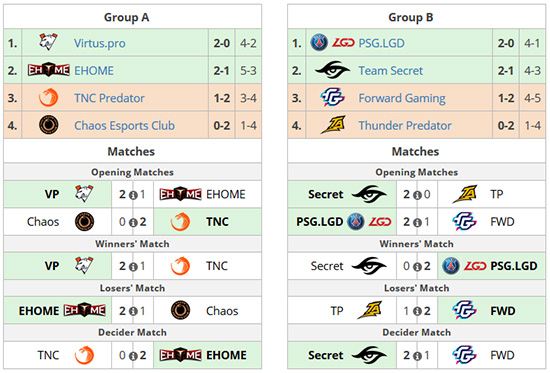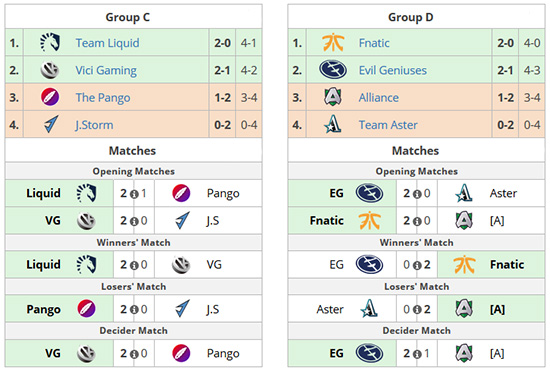 Berikut ini jadwal pertandingan fase Group The Chongqing Major :
19 Januari 2019
Group A
Virtus.Pro 2 vs 1 EHOME - 09:00 WIB
Chaos Esports Club 0 vs 2 TnC Pro Team - 09:00 WIB
Group B
Team Secret 2 vs 0 Thunder Predator - 09:00 WIB
PSG.LGD 2 vs 1 Forward Gaming - 09:00 WIB
Group A Winners' Match & Losers' Match
Virtus.Pro 2 vs 1 TnC Pro Team - 12:30 WIB
EHOME 2 vs 1 Chaos Esports Club - 12:30 WIB
Group B Winners' Match & Losers' Match
Team Secret 0 vs 2 PSG.LGD - 12:30 WIB
Thunder Predator 1 vs 2 Forward Gaming - 12:30 WIB
Group A Decider Match
TnC Pro Team 0 vs 2 EHOME - 16:00 WIB
Group B Decider Match
Team Secret 2 vs 1 Forward Gaming - 16:00 WIB
20 Januari 2019
Group C
Team Liquid 2 vs 1 The Pango - 09:00 WIB
Vici Gaming 2 vs 0 J.Storm - 09:00 WIB
Group D
Evil Geniuses 2 vs 0 Team Aster - 09:00 WIB
Fnatic 2 vs 0 Alliance - 09:00 WIB
Group C Winners' Match & Losers' Match
Team Liquid 2 vs 0 Vici Gaming - 12:30 WIB
The Pango 2 vs 0 J.Storm - 12:30 WIB
Group D Winners' Match & Losers' Match
Evil Geniuses 0 vs 2 Fnatic - 12:30 WIB
Team Aster 0 vs 2 Alliance - 12:30 WIB
Group C Decider Match
Vici Gaming 2 vs 0 The Pango - 16:00 WIB
Group D Decider Match
Evil Geniuses 2 vs 1 Alliance - 16:00 WIB