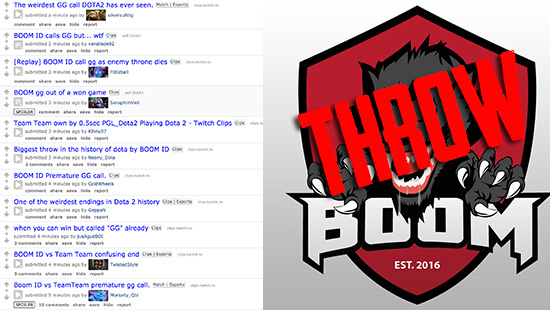 Berhasil masuk ke dalam turnamen The Bucharest Minor, Tim Dota 2 asal Indonesia yaitu BOOM ID melakukan "Throw" pada game pertama mereka melawan Team Team.
Di partai hidup mati antara tim BOOM ID dengan Team Team pada Lower Bracket, terjadi sebuah momen yang cukup konyol dan hampir membuat Caster terheran-heran karena Randy Muhammad "Dreamocel" Sapoetra melakukan kesalahan besar ketika melakukan GG Called di saat mereka bisa memenangkan pertandingan.
Hal ini terjadi ketika terjadi War terakhir di Base BOOM ID yang kemudian berhasil dimenangkan oleh Team Team. Namun Creep dari tim BOOM ID juga berhasil masuk ke dalam menghajar Ancient dari Team Team dan ketika HP dari Ancient tim musuh sudah mau habis, "Dreamocel" justru melakukan GG Called dan membuat semua Caster terdiam dan terheran-heran.
Para panelis juga merasa bahwa hal ini merupakan The Biggest Throw in History of Dota 2 dan tentu saja di dalam partai hidup mati, kesalahan tidak boleh dilakukan apalagi kesalahan konyol seperti ini. Pertandingan menggunakan format BO3 dan sebenarnya tim BOOM ID berhasil memenangkan pertandingan ke-2 yang berarti jika mereka tidak melakukan Throw tersebut maka mereka berhasil lolos ke fase berikutnya dan menghadapi Keen Gaming.
Dengan begitu mereka setidaknya bisa mengamankan posisi 5-6 dengan uang hadiah sebesar $15.000,- atau sekitar 211 Juta Rupiah dan 40 DPC Point. Kini tim BOOM ID harus puas dengan posisi 7-8 dengan uang hadiah sebsar $7.500,- atau sekitar 106 Juta Rupiah dan 20 DPC Point. Semoga tim BOOM ID bisa belajar dari pengalaman berharga ini dan mampu menembus turnamen Dota Pro Circuit berikutnya!