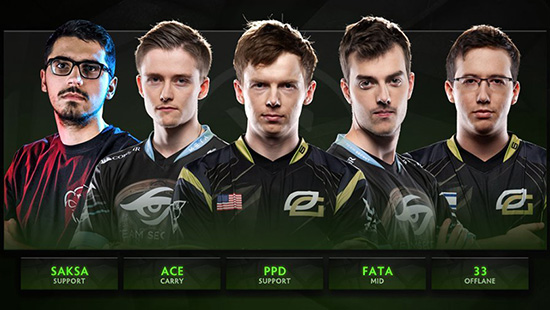 Tim Dota 2 Ninjas in Pyjamas yang baru saja mengambil alih Roster dari OpTic Gaming berhasil mendapatkan mendapatkan gelar juara pertama mereka di ajang GG.Bet Invitational.
Vakum selama hampir 1 tahun dari dunia Dota 2, kini akhirnya tim E-Sports asal Swedia yaitu Ninjas in Pyjamas kembali dengan mengambil alih Roster dari OpTic Gaming yang dikepalai oleh Peter "ppd" Dager. Tim OpTic Gaming yang berhasil mencapai posisi 8 besar di ajang The International 8 akhirnya dibubarkan oleh manajemen dan membuat "ppd" dan kawan-kawan mencari tim baru.
Tapi ada sedikit perubahan pada tim "ppd" yaitu dengan mengganti Per "Pajkatt" Olsson Lille, Quinn "CC&C" Callahan, dan Ludwig "zai" Wahlberg dengan Marcus "Ace" Hoelgaard dam Adrian "Fata" Trinks dari Team Secret serta
Martin "Saksa" Sazdov. Perubahan ini tampaknya memberikan dampak besar bagi tim Ninjas in Pyjamas karena mereka kini telah mengamankan posisi di ajang The Kuala Lumpur Major serta berhasil menjadi juara di ajang GG.Bet Invitational.
GGWP @GambitEsports!

🏆 We Are The Champions of The DotA 2 Invitational Season 1 🏆#GONINJAS #DOTA2 pic.twitter.com/pluBdZ0M2r

— Ninjas in Pyjamas 🇸🇪 (@NiPGaming) October 7, 2018
Tim NiP berhasil mencatat rekor sempurna di fase Playoffs dengan berhasil mengalahkan tim Alliance di Semi Finals dan menjadi juara setelah mengalahkan tim Gambit Esports dengan skor telak 2-0. Nantinya mereka akan kembali bertanding di ajang Maincast Autumn Brawl untuk memperebutkan total hadiah sebesar $80.000,- atau sekitar 1,2 Miliar Rupiah. Di turnamen tersebut akan diikuti oleh tim-tim besar seperti Virtus.pro, Team Secret, Natus Vincere, dan Winstrike Team. Fase Playoffs turnamen tersebut akan dimulai pada tanggal 10 - 14 Oktober 2018.
Untuk turnamen besar, tim NiP mendapatkan undangan langsung untuk ajang ESL One Hamburg 2018 dan berhasil mengamankan 1 posisi di The Kuala Lumpur Major yang merupakan bagian dari musim kompetisi Dota Pro Circuit 2018-2019. Tapi melihat performa mereka saat ini, tampaknya tim NiP akan menjadi salah satu tim yang akan menjadi favorit juara di turnamen-turnamen tersebut. Mari kita tunggu bagaimana performa dari Peter "ppd" Dager dan kawan-kawan!!
Roster tim Ninjas in Pyjamas saat ini :
- Marcus "Ace" Hoelgaard
- Adrian "Fata" Trinks
- Neta '33' Shapira
- Martin "Saksa" Sazdov
- Peter 'PPD' Dager