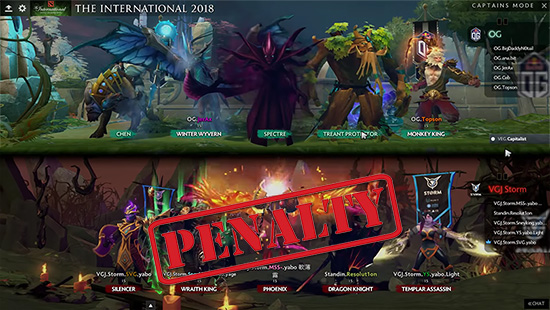 Fase Group The International 8 diwarnai drama setelah tim VGJ.Storm mendapatkan penalti dari pihak Valve karena miskomunikasi yang membuat mereka menggunakan 2 pelatih.
Di hari ke-4 fase Group, tiba-tiba pihak Valve memberikan pengumuman bahwa tim VGJ.Storm telah terbukti melanggar sebuah peraturan. Aturan yang dilanggar oleh tim asal regional North America ini adalah mengenai jumlah pelatih yang boleh hadir di ruang pemain saat fase Drafting.
Ternyata VGJ.Storm menggunakan 2 pelatih saat melakukan fase Drafting dimana Aaron "Clairvoyance" Kim sebagai pelatih utama mengajak juga asisten pelatih dan Analyst mereka yaitu Ilya "Illidan" Pivcaev untuk masuk ke dalam ruang pemain. Menurut Valve sudah sangat jelas bahwa ada peraturan yang menyatakan bahwa hanya boleh ada 1 pelatih yang hadir di ruangan bersama dengan 5 pemain lainnya.
As such, we are applying penalties to just their first series of the Main Event; they will not be allowed to use a coach during the draft and will have a level 2 draft time penalty. (4/4)

— DOTA 2 (@DOTA2) August 18, 2018
Jack 'KBBQ' Chen yang merupakan Team Director dari VGJ.Storm memberikan pembelaan dengan menyatakan bahwa mereka sudah menanyakan hal tersebut kepada pihak panitia dan tidak ada pernyataan dari panitia untuk melarang hal tersebut sehingga mereka akhirnya menggunakan 2 pelatih saat melakukan fase Drafting. Melihat pernyataan tersebut pihak Valve akhirnya menyatakan bahwa hal ini terjadi hanya karena masalah miskomunikasi, namun mereka tetap akan memberikan penalti kepada tim VGJ.Storm di pertandingan pertama mereka di fase Main Event saat menghadapi OG Dota 2.
Regarding the coach situation: we were not sure if two coaches would be allowed during the draft. There's no ruleset where this is written, there are no rules in general beyond format. Because we were uncertain about it, we asked a PGL admin, who checked with a higher-up (1/2)

— Jack Chen (@KBBQDotA) August 18, 2018
Nantinya tim VGJ.Storm dilarang menggunakan pelatih saat melakukan Drafting dan mereka terkena Level 2 Draft Time Penalty yang akan membuat mereka kehilangan 70 detik Reserve Time. Berarti mereka hanya memiliki 60 detik waktu cadangan untuk memikirkan strategi Draft yang harus diambil. Entah apakah dengan penalti ini tim VGJ.Storm akan mampu mengalahkan tim OG Dota 2 di pertandingan Upper Bracket pada Main Event The International 8.