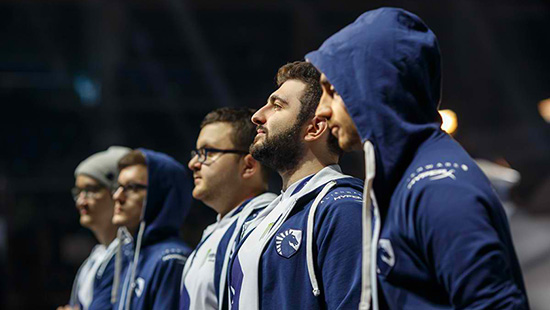 Dominasi dari tim Evil Geniuses berhasil dipatahkan oleh Team Liquid dengan memenangkan seluruh pertandingan mereka di hari ketiga fase Group ajang The International 8.
Jadwal pertandingan fase Group ajang The International 8 : https://www.infotourney.com/latest-news/1170-jadwal-dan-bagan-pertandingan-fase-grup-the-international-8
Team Liquid berhasil mengamankan posisi Upper Bracket di fase Main Event setelah mereka berhasil memenangkan 3 pertandingan dan juga menghentikan dominasi dari tim Evil Geniuses. Pada hari ketiga, Team Liquid menjalani 3 pertandingan yaitu melawan Mineski, Winstrike Team, dan Evil Geniuses. Pertandingan melawan tim Evil Geniuses menjadi ajang pembuktian bahwa Team Liquid mampu bersaing dengan tim yang sedang On Fire tersebut dan benar saja Team Liquid berhasil mencuri poin penuh dari tim Evil Geniuses yang membuat mereka langsung berbagi tempat di peringkat pertama bersama tim Evil Geniuses.
Kemudian di OG Dota 2 juga berhasil bermain dengan baik dan mendapatkan 2 kemenangan dari tim VGJ.Thunder dan Invictus Gaming serta 1 seri dari tim Fnatic. Dengan hasil tersebut mereka langsung naik ke peringkat ke-4 dan untuk bisa mengamankan posisi di 4 besar maka mereka harus menang saat melawan Winstrike Team di pertandingan mereka, namun Winstrike Team pastinya akan bertanding dengan sekuat tenaga karena mereka memerlukan kemenangan untuk bisa lolos dari eliminasi.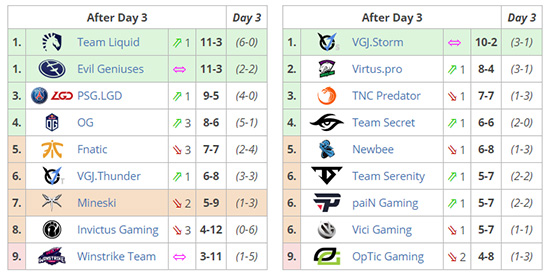 Lalu di Group B, dominasi dari VGJ.Storm masih terus berlanjut dengan kemenangan dari tim TnC Predator dan hasil seri dari tim Newbee. Dengan hasil tersebut mereka berhasil mengamankan posisi di Upper Bracket. Team Secret berhasil naik ke Top 4 dengan mendapatkan 1 kemenangan dari tim OpTic Gaming yang kini terpuruk di peringkat terakhir. Di hari terakhir, persaingan Group B akan menjadi sangat krusial dimana masing-masing tim memiliki poin yang berdekatan sehingga kemenangan sangatlah diperlukan untuk bisa mengamankan 3 posisi yang tersisa di 4 besar.
Untuk pertarungan zona eliminasi, terdapat 3 tim yang memiliki poin yang sama yaitu 5-7 yaitu Team Serenity, paiN Gaming, dan Vici Gaming. Lalu di terdapat tim OpTic Gaming yang berada di posisi terakhir dengan skor 4-8 yang nantinya akan saling berhadapan dalam partai hidup mati dengan tim-tim lainnya. Sebuah kemenangan adalah hal yang perlu didapatkan untuk bisa terhindar dari eliminasi di fase Group The International 8.
Memasuki hari terakhir fase Group ajang The International 8, kira-kira tim mana yang harus angkat koper terlebih dahulu?
Anda dapat menyaksikan seluruh pertandingan The International 8 di https://www.twitch.tv/dota2ti, https://www.twitch.tv/dota2ti_2, https://www.twitch.tv/dota2ti_3, https://www.twitch.tv/dota2ti_4, dan https://www.twitch.tv/dota2ti_5