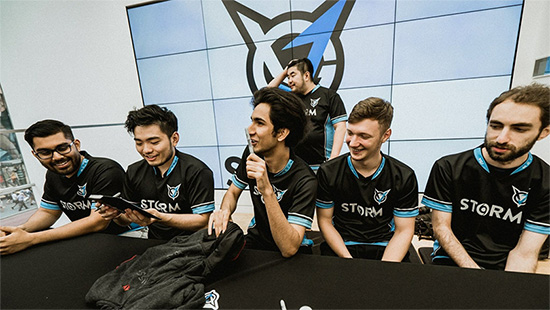 Hari kedua fase Group ajang The International 8 masih memperlihatkan kekuatan tim Evil Geniuses dan VGJ.Storm yang masih menempati posisi teratas di masing-masing grup.
Jadwal pertandingan fase Group ajang The International 8 : https://www.infotourney.com/latest-news/1170-jadwal-dan-bagan-pertandingan-fase-grup-the-international-8
Tim Evil Geniuses masih berada di puncak klasemen sementara fase Group The International 8 dengan berhasil mendapatkan 2 kali kemenangan di hari kedua. "SumaiL" dan kawan-kawan berhasil mengalahkan OG Dota 2 dan yang luar biasa mereka mampu mengalahkan tim PSG.LGD yang merupakan salah satu kandidat juara karena mereka merupakan tim yang berhasil mendapatkan posisi 3 besar di musim kompetisi Dota Pro Circuit 2017-2018.
Lalu Team Liquid masih menempati posisi ke-2 dimana mereka hanya bermain 1 kali di hari kedua dan mendapatkan hasil seri saat menghadapi Invictus Gaming. Team Liquid berbagi posisi ke-2 bersama dengan tim Fnatic yang mendapatkan 2 kali hasil seri saat menghadapi Mineski dan Invictus Gaming. Tim VGJ.Thunder yang sebelumnya berada di posisi terakhir berhasil bangkit dengan mendapatkan 1 kali kemenangan dari Winstrike Team yang harus turun ke posisi terakhir setelah gagal mendapatkan kemenangan dalam 2 pertandingan di hari kedua.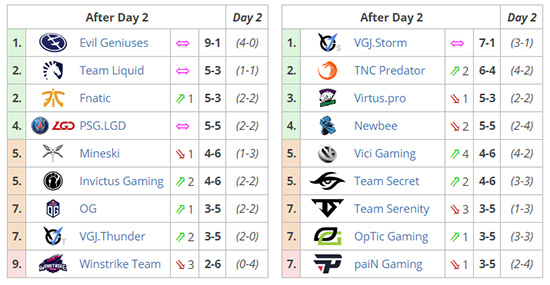 Di Group B, tim VGJ.Storm juga masih mendominasi pertandingan dimana mereka menempati posisi pertama dengan skor 7-1. Di hari kedua mereka berhasil menang dari tim paiN gaming dan mendapatkan hasil seri dari OpTic Gaming. Di urutan ke-2 ada tim TnC Predator yang naik 2 peringkat karena mereka bermain 3 pertandingan pada hari ini dan mereka mendapatkan hasil seri saat menghadapi paiN Gaming dan Virtus.Pro serta menang dari OpTic Gaming.
Tim Virtus.Pro harus turun 1 peringkat karena hanya mendapatkan 2 hasil seri sedangkan Newbee harus turun 2 peringkat karena menelan kalah dari Vici Gaming dan Optic Gaming namun untungnya mereka berhasil menang dari Team Serenity. Di urutan terakhir ada 3 tim yang memiliki poin yang sama yaitu 3-5, mereka adalah Team Serenity, OpTic Gaming, dan paiN Gaming. 3 Tim ini belum pernah saling bertemu sehingga pertandingan ketiga tim ini akan sangat krusial bagi mereka untuk menjaga harapan agar bisa lolos ke fase Main Event.
Nampaknya tim Evil Geniuses dan VGJ.Storm sudah mengamankan posisi Upper Bracket di fase Main Event sedangkan tim-tim lainnya masih perlu mendapatkan kemenangan lainnya untuk bisa mengamankan posisi mereka di 4 besar. Selain itu beberapa tim di klasemen bawah juga harus berhati-hati karena jika mereka terus menelan kekalahan bisa saja mereka sudah dipastikan tereliminasi di hari ketiga fase Group The International 8.
Anda dapat menyaksikan seluruh pertandingan The International 8 di https://www.twitch.tv/dota2ti, https://www.twitch.tv/dota2ti_2, https://www.twitch.tv/dota2ti_3, https://www.twitch.tv/dota2ti_4, dan https://www.twitch.tv/dota2ti_5