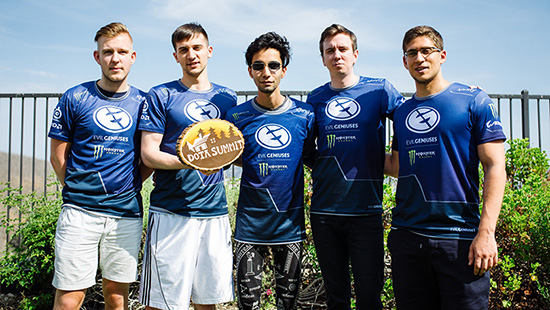 Sebuah awal yang bagus bagi tim Evil Geniuses sebelum mereka bertanding di The International 8 karena mereka berhasil menjadi juara di ajang DOTA Summit 9 dengan hasil yang memuaskan.
DOTA Summit 9 dapat dikatakan sebagai ajang uji coba dan pemanasan bagi 5 tim peserta The International 8 yaitu Evil Geniuses, VGJ.Storm, paiN Gaming, OpTic Gaming, dan Fnatic. Turnamen ini berlangsung dari tanggal 25 - 29 Juli 2018 dengan total hadiah sebesar 100 Ribu Dollar atau sekitar 1,4 Miliar Rupiah.
Tim Evil Geniuses yang mampu keluar sebagai juara memang tampil sangat dominan dari fase Group dengan berhasil menempati posisi pertama dengan rekor 7-3. Mereka hanya kalah dari tim Fnatic dan imbang dengan tim Let's Do It. Dengan begitu mereka langsung masuk ke Upper Bracket Finals dan menghadapi tim VGJ.Storm yang berada di urutan ke-2, namun tim Evil Geniuses mampu mengalahkan tim VGJ.Storm dengan sangat telak dimana pertandingan pertama hanya berlangsung selama 16 menit dan yang kedua selama 35 menit.
Ternyata yang menjadi lawan tim Evil Geniuses di babak Grand Final adalah tim Fnatic yang mampu bangkit meskipun mereka hanya berhasil menempati posisi ke-5 di fase Group. Mereka berhasil mengalahkan semua lawan-lawan mereka yaitu tim OpTic Gaming, Let's Do It, dan VGJ.Storm dengan skor telak 2-0 dan dengan modal berhasil mengalahkan tim Evil Geniues 2-0 di fase Group membuat pertandingan di babak Grand Final menjadi seru.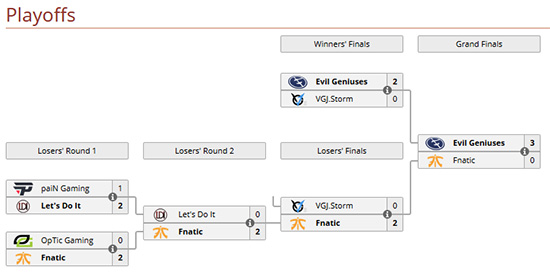 Benar saja pertandingan pertama berlangsung hingga 53 menit dan berhasil diamankan oleh tim Evil Geniuses dan sayangnya tim Fnatic tidak mampu berbuat banyak karena Evil Geniuses mampu bermain dengan sangat baik dan menyapu bersih tim Fnatic dengan skor akhir 3-0. Performa tim Evil Geniuses dapat dikatakan sedang dalam momen terbaik mereka dan semoga mereka bisa menjaga performa tersebut pada ajang The International 8 nanti.
Berikut ini hasil akhir turnamen DOTA Summit 9 :
1. Evil Geniuses - $ 40.000,-
2. Fnatic - $ 20.500,-
3. VGJ.Storm - $ 15.750,-
4. Let's Do It - $ 8.550,-
5. paiN Gaming - $ 8.100,-
6. OpTic Gaming - $ 7.100,-