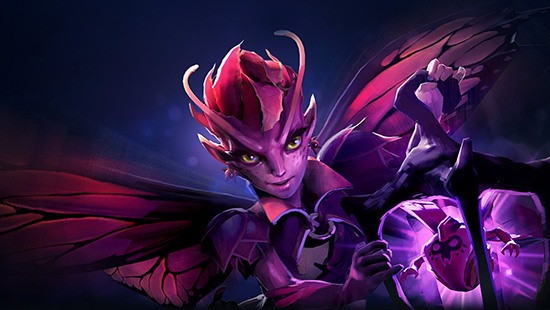 Kini melalui Update 7.07, akan terdapat 1 Hero Support baru yaitu Dark Willow yang bisa diandalkan dengan Skill-Skill yang terbilang cukup unik dan efektif untuk membantu di dalam pertempuran.
Sama seperti Pangolier, Hero Dark Willow juga sudah diperlihatkan dalam video pendek di ajang The International 7. Dalam video tersebut terlihat bahwa Dark Willow merupakan Hero yang iseng dan suka menganggu Hero lainnya. Hal ini terlihat dengan Skill-Skill yang dimiliki olehnya yang mampu mengacaukan formasi musuh ketika sedang bertempur.
Valve memberikan penjelasan bahwa Pangolier merupakan Hero yang memiliki Role :
- Medium-difficulty Hero
- Ranged
- Support
- Nuker
- Disabler
- Escape
Dark Willow merupakan Hero Intelligence yang membuatnya cocok untuk dijadikan Hero Support karena memiliki kemampuan yang bagus dalam menjadi Disabler. Dark Willow memiliki 3 Skill yang membuat musuh-musuhnya untuk tidak dapat bergerak dan bahkan bisa membuat mereka lari ketakutan.
- Skill dari Dark Willow :
1. Bramble Maze
Dark Willow creates a maze of brambles that latch onto enemies who walk into a thicket, damaging them and applying a root.
Dark Willow menciptakan suatu labirin yang terdapat 8 semak belukar dan akan memberikan efek Root jika ada musuh yang berjalan ke semak belukar tersebut. Dengan begitu Dark Willow dapat menjadi Crowd Control yang bagus di tengah-tengah pertempuran.
2. Shadow Realm
Dark Willow recedes into the Shadow Realm, becoming untargetable and gaining increasing bonus magic damage for her next attack the longer she remains in the shadows.
Skill ini membuat Dark Willow menjadi tidak bisa diserang oleh musuh dan juga membuatnya mendapatkan bonus Magic Damage. Dengan skill ini, Dark Willow dapat masuk dan keluar dari pertempuran dengan mudah sehingga Hero ini bisa sangat diandalkan dalam Team Fight.
3. Cursed Crown
Dark Willow bestows a cursed fae crown upon an enemy. After a four second delay, the target and any other enemies nearby are stunned.
Dark Willow akan memberikan kutukan selama 4 detik yang akan memberikan Stun kepada Hero tersebut dan juga pada musuh lainnya yang berada dekat-dekat dengan Hero yang dikutuk oleh Dark Willow. Jadi Skill ini akan sangat bermanfaat ketika musuh sedang bersama-sama.
4. Bedlam & Terrorize
Bedlam - Dark Willow's companion Jex circles around her, dealing damage to nearby enemies. Cannot be used while Terrorize is active.
Terrorize - Dark Willow's companion Jex strikes fear into her enemies, causing them to run towards their home fountain. Cannot be used while Bedlam is active.
Skill Bedlam dan Terrorize merupakan Skill Ultimate dari Dark Willow, namun kedua Skill ini tidak berhubungan satu sama lainnya, jadi Anda harus memilih Skill mana yang lebih ingin Anda gunakan. Jika Anda memerlukan Damage maka tingkatkan Bedlam lebih tinggi sedangkan jika Anda perlu menjadi Support maka tingkatkan Skill Terrorize.
Skill Bedlam akan sangat bagus jika dikombinasikan dengan Skill Bramble Maze yang membuat musuh terkena Root di posisi yang pas dengan putaran dari "Jex". Lalu untuk Skill Terrorize sangat berguna untuk menghancurkan posisi lawan dan juga bisa menghentikan Skill Channeling dari Hero musuh.
Melihat kemampuan dari Dark Willow, tampaknya Hero Support ini dapat memberikan dampak besar di Early Game dan juga di Late Game. Skill yang dimiliki Dark Willow membuatnya menjadi Support yang bisa diandalkan jika dimainkan dengan benar.