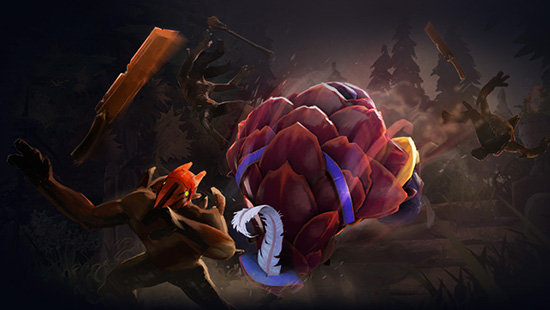 Dengan tambahan 1 Hero Core baru ke dalam Dota 2 melalui Update 7.07, pastinya Anda akan ingin mencoba atau mengetahui kemampuan Pangolier sebelum mencoba atau menghadapinya di Game nanti.
Hero ini pertama kali diperlihatkan pada ajang The International 7 melalui sebuah video pendek yang memperlihatkan bagaimana Pangolier dapat bergerak dengan lincah dan mampu menghancurkan Quills dari Hero Bristleback. Ternyata hal tersebut ada dalam salah satu Skill yang dimiliki oleh Pangolier yang dapat membuat Armor dari musuh yang dia serang tidak berfungsi sama sekali.
Valve memberikan penjelasan bahwa Pangolier merupakan Hero yang memiliki Role :
- Low-difficulty Hero
- Carry
- Nuker
- Disabler
- Durable
- Escape
- Initiator
Pangolier merupakan Hero Agility yang berarti Hero ini akan bisa menjadi Core dengan potensi DPS yang besar ditambah dengan kemampuannya untuk menghilangkan Armor dari musuhnya. Selain itu dengan kemampuan yang dimiliki Hero ini dapat membuat Ia bisa masuk dan keluar dari pertempuran dengan mudah yang akan membuat Hero ini bisa diandalkan dalam pertempuran nanti.
- Skill dari Pangolier :
1. Swashbuckle
Pangolier dashes to a new position, assaulting enemies in the target direction with multiple quick thrusts, dealing physical damage and apply on hit effects.
Skill ini membuat Pangolier langsung berpindah ke satu tempat dan menyerang musuh dengan Physical Damage yang disertai dengan "on-hit effects" yang berarti efek dari Item seperti Crititcal dan Armor Reduction akan masuk dalam Skill ini.
2. Shield Crash
Pangolier jumps in the air and slams back to the ground. Enemies around him are damaged and grant him temporary damage reduction the more heroes he hits.
Skill ini membuat Pangolier dapat langsung masuk ke dalam pertempuran dan memberikan bonus Damage Reduction yang akan bertambah besar jika semakin banyak musuh yang terkena Skill Shield Crash.
3. Heartpiercer
Pangolier reads his enemies perfectly, deftly slipping his blade past defenses to give his attacks a chance to slow the target and fully negate enemy armor after a short delay.
Skill pasif ini akan membuat Armor musuh menjadi tidak berfungsi dan memberikan efek slow kepada targetnya. Sebagai Hero Agility, hal ini akan meningkatkan DPS yang bisa diberikan Pangolier kepada musuhnya.
4. Rolling Thunder
Pangolier curls into a magic-immune ball and thunders forward, damaging and stunning any enemies he hits. Shield Crash can also be used while this ability is active to jump over obstacles. Has a brief channeling period.
Skill Ultimate dari Pangolier membuatnya dapat berputar dan menabrak musuh yang memberikan efek Stun. Ketika melakukan Rolling Thunder, Pangolier juga masih bisa mneggunakan Shield Crash yang membuat efek tambahan serta bisa digunakan untuk melewati rintangan dan kabur. Selain itu ketika melakukan Rolling Thunder, Pangolier menjadi kebal dengan Magic.
;
Jadi dapat dilihat bahwa Hero Pangolier merupakan Hero Core yang memiliki kemampuan Initiator yang sangat bagus dengan Skill-Skill nya serta memiliki potensi DPS yang sangat besar dengan kemampuan untuk menghilangkan Armor musuh untuk sesaat.